I am super-busy, explain me in 20 seconds.
HARD-CAP: 1.000.000 EUR
MIN TICKET: 100EUR
ACCEPTED CURRENCIES: ETH, BTC, EUR
TOKEN / SHARE PROPERTIES: participation in dividend and exit proceeds. (details will be published in the prospectul, before the STO launch)
As an investor, You can get Morfin shares at the start of every funding round. With each funding round, you help our project move forward and grow its user base.  Your shares will grow accordingly with the valuation of the company and bring you profit. Help us grow and actively participate in growing your share price. Legally, safely, sustainably.
Welcome to the founders' club!
Rewards Mechanics Diagram
Our referral program can bring you discounts on the tokens you buy on STO.
Equity Mechanics Diagram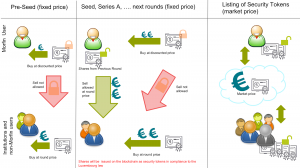 I'll make time for an example (3-minute read).
In a startup lifecycle, the development team gets their funding from investors in separate stages. With each stage, they need to pitch their latest work, show progress and respect deadlines in order to access new seed funds.
With each next round of funding, we will grow our user count and enter the new phase of development, adding features to our platform.
As a participant in the equity program, you have the chance to support a project on high demand. At the end of the funding round, the value of your shares will increase proportionally to the added value of the company.
Early adopters are just as valuable to our project's growth.You get the chance to enter pre-sale and receive important discounts that VCs and Angel Investors usually get when funding other projects. More importantly, there is a better chance our product will be an exact custom-fit for you since the developers will keep in close touch with you for feedback.
The tokens will be tradeable on the Morfin platform and on other platforms specialized in trading security tokens. You can always cash out profits at any of the following funding rounds towards existing investors, if they want to increase their share in Morfin. This is a common practice and allows teams to get a kick-start with appropriate resources.
The dates of the offering depend on user adoption. The faster we grow, the sooner we get into the next funding round, as seen in the EXAMPLE below:
THIS IS AN EXAMPLE. ALL THE VALUES ARE FOR ILLUSTRATIVE PURPOSES HAVE NO RELATION WITH THE TOKEN PRICE OR TIMELINE.
Step by step example estimated prices and growth (they might vary with the amount raised and pre-money valuation agreed for each round).
Round
Who buys
Round Price
Growth
Cumulated growth
User cash out possible?
Year
Pre-Seed
Community in Beta Program
$0.478
0%
0%
no
year 1
Seed Presale
Community
$1.492
212%
212%
no
Seed Sale
VC, Angel, Institution
$1.716
15%
259%
yes
Series A Presale
Community
$2.114
23%
342%
no
year 2
Series A
VC, Angel, Institution
$2.488
18%
420%
yes
Series B Presale
Community
$6.803
173%
1323%
yes
year 3
Series B
VC, Angel, Institution
$8.004
18%
1574%
yes
(platform tradeable)
Series C
VC, Angel, Institution
$12.959
62%
2610%
yes
(platform tradeable)
year 4
Estimated price
free market
$22.031
70%
4506%
yes
(market tradeable)
year 5
THIS IS AN EXAMPLE. THE AMOUNTS ARE FOR ILLUSTRATIVE PURPOSES
This is a sample simulation assuming you would invest 1000$ in each round.
| | | | | |
| --- | --- | --- | --- | --- |
| | Pre-Seed | Seed | Series A | Series B |
| Invested Amount | $1,000.00 | $1,000.00 | $1,000.00 | $1,000.00 |
| Shares | 20,090.91 | 6700.16 | 4720.93 | 1460.99 |
| Year 1 | $3,588.00 | – | – | – |
| Year 2 | $5,201.44 | $1,667.13 | – | – |
| Year 3 | $16,735.63 | $5,363.99 | – | – |
| Year 4 | $27,096.99 | $8,684.93 | $6,128.84 | $1,904.85 |
| Year 5 | $35,226.09 | $11,290.41 | $7,967.50 | $2,476.30 |
| Year 6 | $45,793.92 | $14,677.54 | $10,357.75 | $3,219.19 |
| Year 7 | $59,532.09 | $19,080.80 | $13,465.07 | $4,184.95 |
These are average values for start-up Angel Investors and VC funding rounds:
Pre-seed: raising $200K – $500K
Seed: raising $500K – $2.5M
Series A: raising $3- $12M
Series B: raising $10M – $25M
Series C: raising over $30M – $100M
Series D: raising over $200M
I'm a skeptic, try harder to convince me (+4 more minutes).
Morfin is registered in Luxembourg (Reg. No.: B228318), and is compliant with the laws of the jurisdiction. The new laws in France (ordinance n° 2017-1674 of 8 December, 2017), and Luxembourg (draft law
7363
) now make possible the electronic recording of ownership, transfer, and pledge of securities. This means your investment is made in a compliant and protected environment.
When you decide to invest, you have a chance to receive reputation points these point are directly converted into discounts on the purchase of security tokens.
The SECURITY TOKENS correspond to the Morfin Company shares.
On each funding round, new shares are issued, hence, new security tokens are issued. Anyone purchasing these tokens becomes a direct shareholder of Morfin.
The management of the shares and the governance will be performed electronically, in a transparent manner, via the Morfin Client application. You can buy shares using the current account or crypto wallet on our platform. Tokens are available at a fixed, agreed price with each funding round.
Tokens (shares in the company) will be traded on Morfin platform and on other partner platforms compliant with securities regulation.
Dividend announcement, internal decisions, announcements, and news will all be managed electronically via the Morfin Client application.
In order to claim the shares/tokens and to be registered as shareholder into the blockchain, you must first pass a full KYC and have a Morfin Bank Account The security laws prevent us from having unknown shareholders. This approach also automatically prevents fraud (like users creating multiple accounts to get more discounted shares or more reputation points), since they cannot pass KYC with multiple email accounts.
Users will be able to buy a number of shares (security tokens) proportional with their reputation points at the discount price.
Example:
| | | |
| --- | --- | --- |
| Year | Morfin users necessary to trigger the next round | Round |
| year 1 | 2,000 | Pre Seed |
| year 1 | 50,000 | Seed |
| year 2 | 230,000 | Series A |
| year 3 | 720,000 | Series B |
| year 4 | 1,700,000 | Series C |